The Courageous
Who Have Looked At
Death In The Eye
Nuffnang
Miscellaneous
No Atheists
In A Foxhole
"When you're left wounded on

Afganistan's plains and

the women come out to cut up what remains,

Just roll to your rifle

and blow out your brains,

And go to your God like a soldier"


"We are not retreating. We are advancing in another direction."

"It is fatal to enter any war without the will to win it."

"Old soldiers never die; they just fade away.

"The soldier, above all other people, prays for peace,

for he must suffer and be the deepest wounds and scars of war."


"May God have mercy upon my enemies, because I won't ."
"The object of war is not to die for your country but to make the other bastard die for his.

"Nobody ever defended anything successfully, there is only attack and attack and attack some more.

"Fixed fortifications are a monument to the stupidity of man."
"It is foolish and wrong to mourn the men who died.
Rather we should thank God that such men lived.


The Soldier stood and faced God
Which must always come to pass

He hoped his shoes were shining
Just as bright as his brass
"Step forward you Soldier,
How shall I deal with you?


Have you always turned the other cheek?


To My Church have you been true?"


"No, Lord, I guess I ain't


Because those of us who carry guns


Can't always be a saint."


I've had to work on Sundays

And at times my talk was tough,

And sometimes I've been violent,

Because the world is awfully rough.

But, I never took a penny

That wasn't mine to keep.

Though I worked a lot of overtime

When the bills got just too steep,


The Soldier squared his shoulders and said

And I never passed a cry for help

Though at times I shook with fear,

And sometimes, God forgive me,

I've wept unmanly tears.

I know I don't deserve a place

Among the people here.


They never wanted me around


Except to calm their fears.


If you've a place for me here,


Lord, It needn't be so grand,


I never expected or had too much,


But if you don't, I'll understand."


There was silence all around the throne

Where the saints had often trod

As the Soldier waited quietly,

For the judgment of his God.

"Step forward now, you Soldier,

You've borne your burden well.

Walk peacefully on Heaven's streets,

You've done your time in Hell."


Links
& Infor
xxxx
Glorious
Malaysian Food
xxx
&
Other Stuff
xxx
xxx
xxx
XXXX
xxxx
Advertistment
XXXXXXXX
Advertistment
'I gave them a second chance': Veteran recalls combating communists
Saturday, September 07, 2019
Paul Kiong
Malaysiakini :Paul Kiong spent more than a decade fighting communists in Perak during the Second Malayan Emergency from 1968 to 1989.
But now, the former Special Branch officer calls the 40 or so guerrillas he captured alive close friends. "Three weeks ago, I met up with an ex-CT (communist terrorist), husband and wife, in Puchong, and we had tea."I used to have tea with them every now and again, they are very close to me. "Why are they close to me? Did they fall in love with me? No. It is simply because I gave them a second chance, I didn't kill them," he said.
Kiong was speaking today at the Taman Tugu Human Library (TTHL) project, an event held on the first Sunday of each month at the Taman Tugu Nursery in Kuala Lumpur. The former guerrillas he met in Puchong, he said, are now successful farmers. "I am writing my memoir, but if there is any doubt or anything that I forget, I will contact all the ex-communists who were with me and those in Perak.
"We are still good friends. Kaodim (settle) here, then it is okay already," he said, tapping his finger against his head. Kiong (photo) was referring to the re-education of captured communists for reintegration into society.


As part of TTHL, Kiong was relating his experiences fighting against the communists to an audience of about 30 people crowding around a square metal table. He recalled how he infiltrated the communists' underground branch and went undercover as a courier and driver in order to gather more intelligence on their operations. Eventually, he said, the SB had also infiltrated the militant branch by supplying them rations.
'A dead body to me is useless'
Despite all the information they managed to obtain, Kiong said, the SB tried their best to capture the guerrillas alive. "The SB's policy is not to kill. We do not believe in the American war strategy in Vietnam (where they do a) body count. "A dead body to me is a useless body. Why? He doesn't give me anything. It is a piece of meat, that is all. Why must you kill him when you can capture him alive? "He, too, has a mother, a family. He has his siblings. His family is also looking forward to see him. "It is only here that is the problem," he said, pointing to his head.


Similarly, Kiong added, his first priority back then was his family. "The only thing you can ask for is to do your best and come out alive. Why? Because your family needs you.

"The inspector-general of police will replace you tomorrow, but there is no replacement for your family. "So you come back for your family first, then you talk about your organisation. Commitment to your family first," he said.
Courage under fire
Despite being of only four living veteran police officers awarded the Seri Pahlawan Gagah Perkasa medal – the highest federal award for acts of courage and bravery in the field – Kiong admits that in a way, he was also a coward. "I am scared to die. I am scared I will miss my loved ones, but because I am scared to die, I planned my operations to perfection, 110 percent, no mistakes. "You cannot afford to make a mistake. I used the element of fear to plan the best. "I made sure. I wanted to come home to my family, to my children." The TTHL today also featured a number of other veterans relating their experiences to an eager crowd.
Veterans include former Port Dickson MP and retired navy rear admiral Danyal Balagopal Abdullah and retired brigadier-general Mohamed Arshad Raji.
posted by Major D Swami (Retired) @ 11:45 PM

Sayangi Malaysiaku: Berbalas tembak selama 45 minit dengan komunis Oleh Ahmad Syabil Sultan Noordin Ahmad
Wednesday, August 14, 2019
On a Reconnaissance
KUCHING, 15 Ogos : "Saya bersama-sama (Datuk Temenggong) Kanang anak Langkau serta pasukan pernah berbalas tembakan dengan komunis selama hampir 45 minit di kawasan Gunung Korbu, Perak," kata Panglima Divisyen Pertama Infantri Malaysia, Mej Jen Datuk Toh Choon Siang mengungkap kembali pengalaman getirnya dalam mempertahankan tanah air tercinta.
Toh, 59, sukar dicari ganti, beliau yang bakal bersara pada 16 Sept ini, merupakan pegawai kanan berbangsa Cina yang pertama berkhidmat paling lama dalam Angkatan Tentera Malaysia (ATM) iaitu 42 tahun, sembilan bulan dan lapan hari. Darah kesatria yang mengalir dalam diri beliau diwarisi daripada bapanya yang berkhidmat sebagai tentera udara British semasa Perang Dunia Kedua.





Menceritakan pengalamannya sewaktu berdepan musuh dalam mempertahankan kemerdekaan yang dikecapi negara, beliau berkata tahap kejayaan mereka apabila dapat membunuh dan menangkap lebih ramai komunis. "Kalau balik tangan kosong dianggap tidak berjaya, kalau saya kata tidak takut, itu bohonglah. Kejayaan kami dapat mengalahkan ideologi komunis, ia adalah kejayaan pasukan kami.





"Zaman itu, kejayaan mengusung keluar mayat komunis adalah suatu kejayaan bagi kami yang amat dibanggakan," kata pejuang yang dilahirkan di Johor dan dibesarkan di Pulau Pinang itu kepada Bernama.





Antara pencapaian sepanjang bertugas sebagai pegawai tentera, beliau menyelesaikan 97 kes termasuk melakukan tangkapan seramai 177 Pendatang Asing Tanpa Izin (PATI) dengan nilai rampasan RM1.2 juta. Dalam pada itu, Toh yang merupakan lepasan ijazah pengurusan di Australia pada 1992 dan memperoleh sarjana di UKM dalam jurusan pertahanan berpendapat usaha yang berterusan diperlukan untuk mengubah persepsi kerjaya dalam tentera khususnya bagi kaum Cina.





"Persatuan Veteran Cina ATM perlu berusaha meningkatkan publisiti dan memacu perekrutan seperti menyiarkan lebih banyak berita dalam akhbar Cina dan masuk ke kampung-kampung Cina untuk menjalankan promosi," katanya.





Sementara itu, bagi Lt Kol (B) Nartono Tungal, 62, yang berkhidmat dalam Rejimen Renjer Diraja dan Kor Risik Diraja pula, pengalaman memimpin pasukan dalam pertempuran dengan gerombolan komunis di Kampung Batu Lapan, Tanjung Pari di Baling, Kedah akan terpahat dalam sanubarinya.





"Ia pengalaman yang tidak dapat saya lupakan. Dalam insiden tersebut tiga pengganas komunis didapati cedera parah berdasarkan kesan darah," katanya yang pernah berkhidmat di Bosnia Herzegovina suatu ketika dahulu.





Beliau menasihati generasi muda supaya bersatu tanpa mengira latar belakang kaum dan agama agar dapat mempertahankan kemerdekaan yang dinikmati sekarang.





Antara pasukan yang pernah menerima khidmat Nartono ialah pasukan 1 Renjer Melaka, Markas 6 Briged Sungai Petani, 6 Renjer Bau Sarawak, Yunif 413 Solo Indonesia, Batalion 303 Temenggor Grik Perak, Markas 10 Briged Para Melaka, MIO Sibu Sarawak, MIO Miri Sarawak. Selain itu, Markas 1 Division Kuching, Bosnia Herzegovina, Kompeni Pertama Risik Medan Kuching Sarawak, 165 Batalion Risik Penang, TMBCO Songkhla Selatan Thailand dan Markas Medan Tentera Darat Kuala Lumpur.
Source : Front Desk
posted by Major D Swami (Retired) @ 10:57 PM

The Legendary Captain Ropee Adman Yahayauddin (12472)
Saturday, May 04, 2019
Prepared to jump Ranger School USA
Though Captain Ropee Adman Yahayauddin was a small sized officer, do not be deceived he had the heart of a lion. As I was in another company, I did not serve under Ropee, so beyond what I have mentioned, I am not able to add anything more. Great man to have in a fight on you side! - Lt Col Baldev Singh (Retired)
This person was a legend in 1st Rangers, 3rd Rangers, 4th Rangers, 7 Rangers, 8 Rangers and in the 1st Special Forces Regiment. You can never find a character as colorful as him. His name was always mispronounced as Ropee Adnan, they confused the Adman with Adnan. He served as Platoon Commander in 1st Rangers, 3rd Rangers and Assault Pioneer Platoon Commander with 7th Rangers .
With his Keputusan Perutusan Keberanian (Mentioned in Dispatches - Gold Feathers) and his PJM

Infantry School USA

He was also a Troop Commander in the 1st Special Forces Regiment. Later he served as a Company Commander in 7th Rangers and 8th Rangers. He served from 20th February 1965 until 4th August 1975. He was commissioned on the 5th August 1965. He attended Weapons Course in 1965, Tactics Course in 1965, Air Combat Officer at RAAF Butterworth in 1966, Assault Pioneer Course in 1967, Airborne, Pathfinder and Ranger Course in Fort Benning, USA in 1968 and his SD Course in Lateda 1973.
Lt Col Yap Chok Sang (Retired) (Currently residing in Melbourne Australia) : "He is an ex commando Malaysian Special Services Unit. We were in 4th Rangers, Chong Thean Bok was the CO. He is worth more than 2 Pingat Gagah Berani's. You should ask for exclusive rights to write his exploits. a colourful character, I attended his wedding when 2Lt Ngo Kim Seng was his best man, love to see him. Also his contact (firefight) in Lundu, in an attack on a Communist Terrorist Camp when he failed in an attempt to capture the enemy sentry".
Lt Col Baldev Singh : "He was OC C coy, I was Pl commander in A Coy 7 Rgrs, 1971-1974. My OC was Sabdin Ghani. I know of the contact where Ropee and 2nd Lt Zulkifli Abdul Rahman (Reg 14, my junior, later CO 7RRD), were to investigate a sighting in Titiakah, some 15 kms from Lundu and killed 2 CTs, including the commander of the group.
Ropee and Zul crawled through thick belukar to the CT's location and were surprised by a clearing patrol and a fire fight ensued, and the 2 CTs were killed while the rest bolted. The reporting back to BN HQ was poor, due to heavy atmospheric interference and I was tasked to set up a relay station to facilitate communications. That is how and why I know of this contact. We were using the SLR then and the CT's arms and thighs were literally split in 2 pieces".
When he was young
Record of Service
Lt Col Zulakapli (Rtd) : I was his Platoon Commander,


Service Record

Most recently him with me

Click on the image to enlarge

Captain Ropee and I crawled through the undergrowth, my heart was thudding as we were closing up on the enemy, we spotted the enemy, Captain Ropee aimed at the enemy and shot the enemy, he asked me to take the shot on the second enemy. The rest is history, he was one of the best training officers, he used live rounds on his soldiers, the soldiers hugged the ground and crawled for dear life as the rounds fell very close. His training always involved realism, he used to say, "the way we train is the way we are going to fight!" Sadly he served for only ten years, for his own reasons he left the service.
A great loss to the Ranger Corps.
posted by Major D Swami (Retired) @ 1:24 AM

An Army Legend Is Celebrated by Major A R RAMACHANDRAN (Rtd)
Tuesday, April 16, 2019
Via WhatsApp : They say legends are born everyday, but few are remembered. It was a warm and humid evening in Lukut town where 31 of us gathered to celebrate the 89th birthday of Colonel Harchand Singh, on 12th April 2019.
Ably, and quite appropriately organised by Maj. Gen. Toh Choon Siang, who himself is currently on retirement leave. True to the Ranger Regiment cry of "AGI IDUP AGI NGELABAN", it was indeed a night of comradeship. Retired and serving members of the Armed Forces, Civilian friends from KL, and also local townsfolk who know the good Colonel were there.
Born in Kuala Kangsar Perak, in 1930 on 7th April, this ex ACS Ipoh pupil was in the pioneer batch of 24 cadets who started in Port Dickson, went to Eaton in the United Kingdom, and later commissioned as a 2nd Lt at The Royal Military Academy, Sandhurst (RMA) in 1953. He was even interviewed by Tun General Gerard Templer for a military career. In an illustrious career, he served in the Congo, Commanded various Ranger Battalions, and finally retired as a Colonel and Commandant of the Army Combat Training Centre (ARTCONCEN), now known as Pusat Latihan Tentera Darat (PULADA) in Ulu Tiram Johore.






A paratrooper, a flamboyant character and a dedicated leader of men is the best way to describe him. At the height of the Malaysian Emergency (1968 - 89), he was often in active operations hunting down the infamous Chong Chor (leader of an Assault Unit of the Malayan Communist Party in Pahang). Late night, in the deep jungle, in the light of a lowly lit Hurricane Lamp, he was seen pouring over military maps, and plotting the fate of the bandits with uncanny ability to predict their next move, like a Chess Master. That was the Colonel Harchand I knew from the seventies.
Today, frail, but hale and hearty, he repeatedly kept singing Besame Mucho, and You Are My Sunshine again and again, oblivious to the occasion. No, he has not lost his mind, but I believe we succeeded in rekindling some deep, lovely memories of the good old days. My sharpest salute to this Officer and Gentleman, and a Soldier's Soldier. Of course, next year we certainly would meet again to celebrate his Grand Ninetieth! AGI IDUP AGI NGELABAN from a grateful Gunner.
MAJ. A R RAMACHANDRAN (Retd) 107 JALAN BUNGA RAYA 17, TAMAN TASIK JAYA, SEREMBAN 70400. NSDK Mob: 012 2060 160.
P. S. Attached are his career highlights and photos. This write up is done with the intent not to praise an individual but to inspire the younger generation of the trials, tribulations and sacrifices of the older generations. A nation is not simply born, but raised from the blood,sweat and tears of its people.
posted by Major D Swami (Retired) @ 5:11 AM

Lietenant Colonel Harbhajan Singh a/l Jagat Singh (200684) an unsung hero on a suicide mission
Monday, April 08, 2019
If one, who does not know the Colonel, his demeanor is that of a calm and a very unassuming person. Don't be deceived, when the call came, he answered. The Colonel was from Intake SSC 11, Royal Military College 1967. He was commissioned into 4th Rangers , served there for 6 years.
After that went on to become an Instructor at the Recruit Training Center in Port Dickson. As for normal Officers from the Infantry have to move on, from RTC to 3rd Rangers at Camp Kukusan in Sabah, then the Unit moved to Camp Terendak, he was then the 2IC of the Battalion, the Battalion received it's Colors in 1980.
Recent photo of the Colonel

Then it was time to move on, he was made an Instructor in the Company Commander's Course of the Army Combat Training Center. He was made the OC of the Company Commander's Wing for his remarkable training skills. After that went on to become an Instructor at Officer Cadet School. Soon he was posted out to 5th Rangers to become the 2IC at Camp Wardieburn. From there he became the Commanding Officer of Seventh Rangers located in Sri Aman, Sarawak in May 1987 until they moved to Mentakab, in Pahang. His favourite sport was Sepak Takraw, without fail he played the game nearly every evening with his boys and officers. He was very adept at that game. From there moved to the 509 Regiment in Penang, before his compulsory retirement in 1995.
He is proficient in many languages, of course he speaks Punjabi as he is a Punjabi, fluent in Tamil, many an Indian soldier or Officer got their shellacking in Tamil. He is very fluent in Hokkien too, sadly, not enough of them to receive his wrath but sufficient and he could tear a hole in any Dayak soldier fluently in Iban.
The Battalion was on Counter Insurgency Operations in 1973, Col Harbhajan's Alpha Company was kept in reserve. Being the reserve Company, a very dangerous mission fell on his head. One of the most outstanding and life threatening mission undertaken by him was in the peace negotiations with NKCP leader Bong Kee Chok to surrender along with 481 of his supporters.This negoatiation was led by the Head of the Special Branch of the royal Malaysian Police, Datuk Seri Yuen Yuet Leng. In the Book "Nation Before Self" written by him he mentions Lt Col Harbhajan Singh on page 215.
Lt Col Harbhajan Singh served in Sarawak in 1967 with 4th Rangers as a Platoon Commander, in the Serian area for 6 months. After which he returned to Ipoh, his base camp. Served on other operational duties in various parts of Malaysia. In 1972 he returned to Sarawak and served as an Adjutant of 4th Rangers in Camp Wong Padong about 10 kms from Simanggang (now Sri Aman). Camp Pakit was not in existence then. He was involved in various hearts and minds projects in and around the villages and Long Houses in the Engkilili area.

The Military presence there brought about a sense of Security for the people in that area. The duration he operated there was 9 months. At the end of 1972 he returned to the base camp in Ipoh to carry out operational duties at the Malaysia/Thai border against the Communist Party of Malaya Insurgents. In 1974 he was transferred to Sibu, Sarawak for two years, stationed at Camp Oya, under the Rajang Area Security Command (RASCOM). He carried out operations in the Bintangor and surrounding areas during the peak of the Communist Insurgency. An outstanding and suicidal mission was tasked to him. He was to provide security for the Head of the Special Branch RASCOM, Superintendent Yuen Yuet Leng (later promoted to Commissioner and was made a Tan Sri after retirement).

This was a top secret mission to discuss the terms of surrender with the Leader of a group of 100 Communist Terrorists. They wanted to discuss the terms only with Superintendent Yuen Yuet Leng. That started the launch of Operation Sri Aman in 1974. The meeting with 8 secrtion leaders was to be held at a location in the Paradom area, where the Landing Point for the helicopter would be prepared by the Communists themselves. The orders for this operation was given by the RASCOM Commander himself, the mission was termed 'Suicide Mission'. He had to handpick 15 of his soldiers. They were flown into the area and had to jump off the helicopter whist it hovered, to clear booby traps that might have been palnted by the Communists. They were surrounded by at least 80-100 Communists located on the higher ground, having a good fire location.

The Communists had their machine guns nad weapons trained on them. He told his soldiers to be calm. After a while the Head of Special Branch landed in a separate helicopter, here Lt Col Harbhajan escorted the head of the SB to the meeting place to an old abandoned house in a remote area. If the Communist opened fire the the code word "Gila" was to be issued by him, whereby the Artillery battery would aopen fire on his location and his orders were to bring out the Head of the SB dead or alive. The Artillery barrage would have killed most of the Communist along with Lt Col Habhajan and his men, as it was a registered target.

The plan was pulled off successfully, paving the way for the Communist Terrorists to lay down their arms. The suicide mission was the beginning of meetings, discussions and follow up actions that led to the abandonment of the armed struggle in Sarawak. Before they lefet the area Lt Col Harbhajan and his men blew up 120 weapons belonging to the communists. He served in various assignments in the Army after that. On the 1st May 1987 he was promoted to Lieutenant Colonel to Command 7th Rangers in Camp Pakit, Bandar Sri Aman.
It was an after thought, when he recollected the role payed by Col Harbhajan, which was indeed an important one. Col Harbhajan at that time was the OC of A Company 4th Rangers, he was based in Camp Oya, Sibu, Sarawak. His operational playground was in the Rajang Area Security Command (RASCOM). he was called up, his orders were given by the GOC himself, General Jamil. He was to select 15 of his best men to provide close protection to Datuk Seri Yuen Yuet Leng the Head of the Special Branch.
The thoughts running through his head was whether he will come back and see his beloved family again......or feel the sweet flow of ice cold beer downs his thirsty throat. This was a do or die mission, he held on to the highest traditions of the Ranger Corps and pushed aside his doubts.
The following day they were deployed by Nuri to an LP. That LP was constructed by the Communist Terrorists, no one was sure if that loaction was booby trapped. The LP was located in a valley. The helicopter hovered over the LP. The downwash from the helicopter's rotors were very strong and the elephant grass and bushes were swaying on that misty morning, the Booby Trap Clearing Team and some members of the protection team jumped down avoiding the stumps on the ground. The BCT cleared the LP giving the 'all clear' that the LP was not booby trapped. The Colonel sent his men into whatever good fire positions there were. He realized that they were outgunned and outnumbered. Then again he would give them a fight that they will remember.
Once the all clear was given an Alouette Helicopter carrying the Head of the Special Branch, Datuk Seri Yuen Yuet Leng landed. In another Alouette was a Major Maniam from the Artillery Regiment, took up his role as the Forward Observation Officer in an Air Observation Post, to rain down fire on that area with an Artillery Barrage, in the event things did not go according to plan. That area was a registered target. During the operation if anything untoward were to happen it was Col Harbhajan's call to bring out the Head of the Special Branch, dead or alive at all costs!! That, the Head of the Special Branch did NOT know!
The operation was nicknamed "Suicide Mission". Col Harbhajan located a GPMG team around the LP, the Commander of the team reported via radio that there were around 80 CT's all around the LP, ready to open up on Col Harbhajan and his merry men if they felt threatened. The Head of Special Branch handed over a list of names of all the CT Leaders named after cigarette brands to Leong Chee Wah, the Depury Head of the Special Branch.
Fortunately nothing happened which resulted in the CT's returning to Society. One of the conditions was that they be termed as "Returned Enemy Personnel" NOT Surrendered Enemy Personnel. Amongst the Head of Special Branch's team was a Sergeant Lim who had the uncanny ability to determine if the CT's were sincere or not, this Sergeant had the ability to recognize the CT's even with old photographs.
No one knew about this mission, Datuk Seri Yuen Yuet Leng added Col Harbhajan as an afterthought on page 215, as he himself had forgotten about that "Suicide Mission".
It was a mission where everything could have gone wrong, resulting in his death and of his men. Yet the Colonel stood up to be counted, the nation and the people owe him, not many can say that they were on a suicide mission. He can and he did!!!
posted by Major D Swami (Retired) @ 6:32 AM

4th Rangers Circa 1969 before May 13 - Notice the number of Non Malay Officers in service - This picture puts and end to the UMNO Malay lie that Non Malays are NOT Patriotic
Thursday, January 24, 2019
Seated left to right : Unit Doctor, Captain James Tomlow (first Iban Officer), Major Hussein (RMR), Lt Col Harchand Singh, Captain Ismail PGB 6 Rgrs seconded from RMR, Lt Ray Mohana Chandran Seri Pahlawan Gagah Perkasa. Second row : Lt Haron Salleh, Lt Syed Othman ex Singapore Infantry Regiment, 2nd Lt Ghani, 2nd Lt Shiob, 2nd Lt Rahim, 2ndLt Thavakumar, 2nd Lt Lee Hon Kuan, 2nd Lt Norman Sta Maria. Back row : 2nd Lt Rajkumar, 2nd Lt Alias Shaik Mohd, 2nd Lt V V Pius, 2nd Lt Syed Mohd 2nd Lt Omar. 2nd Lt Yap, 2nd Lt Ng Keng Wah, 2nd Lt Yap Chok Sang. Location Corps Mess Suvla Lines 1968 or 69. Prior to May 13 and after the departure of British seconded officers.

Notice the number of Non Malay Officers in service,12 of them and only 10 Malays. Remember this guy who was not even born in Malaysia but in Ponorogo, Indonesia! Whose daddy brought him in during the Indonesian Confrontation. Who said this : Defence Minister Zahid Hamidi reasoned that the low number of Chinese and Indian recruits in the military could be due to "lack of patriotism". Anyway he is an arsehole awaiting trial for corruption.
Well,he offended me greatly for insulting us Non Malays who have served and are serving. So I called him an arsehole a correct term for an Indonesian born. Get it through your thick Javanese skull, that it's racial discrimination that is the cause of the dwindling numbers of Non Malays who want to serve.
posted by Major D Swami (Retired) @ 4:03 AM

Major Patrick Wong Sing Nang
Thursday, August 30, 2018
I love my country and I must live on," Major Wong Sing Nang (Retired), a patriot and survivor from the battle in 1977, persevere till the very end. More on him.............
posted by Major D Swami (Retired) @ 6:54 AM

Maj Patrick Wong Sing Nang (Rtd)
Malaysian Armed Forces Chinese Veterans Association (MACVA) would like to pay tribute to one of its hero's; Major Patrick Wong Sing Nang (Rtd). In conjunction with the Malaysian Armed Forces Veteran Gathering event on 31 July 2017, RTM interviewed him and Brig Gen Dr Leong Weng Foon (Rtd) at Wisma TV, Angkasapuri, Kuala Lumpur on 28 July 2017. Together with Veterans who have served King and Country, their interviews were broadcast by RTM respectively on 29 July and 30 July 2017.

His expressed statement during the interview:
"I hope that Malaysian will not forget Veterans of the Malaysian Armed Forces because the peace that Malaysia has today are due to their past sacrifices; especially during the First and Second Malaysian Emergency; which enable our Country to enjoy our independence until today."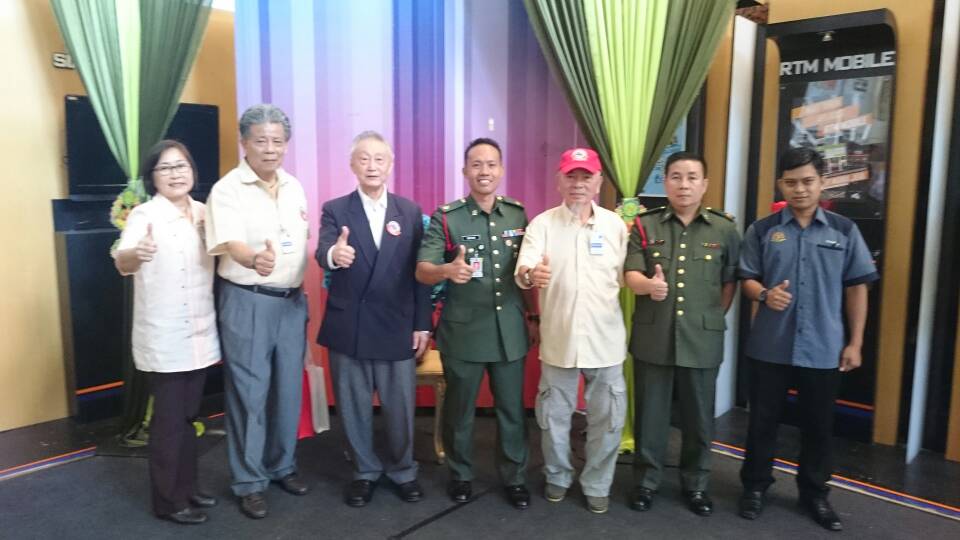 With MACVs, JHEV and MINDEF Officers at Wisma TV, Angkasapuri, Kuala Lumpur. 28 July 2017.


Patrick had being involved in a series of Operations that have made contact with the enemies. Among them were Operation Radak in Kulim, Kedah; the Lundu incidents in Sarawak and Operation Tanduk in Gopeng, Perak.
Captain Patrick Wong Sing Nang (Rtd) was a Company Commander of 8th Ranger Battalion based at Syed Putra Camp, Ipoh. He was shot in the chest during a firefight with the enemies in Ops Tanduk on December 1977 in Gopeng, Perak. Three other men were also severely injured including one soldier who stepped on an enemy booby trap.
Despite being severely injured, Patrick never lost his command and continues to give direction. Request for helicopter evacuation was immediately made and a 'winching point' was established. He ordered three of his wounded men be evacuated first, leaving himself last to be airlifted out putting the safety and lives of his men above his.
On arrival at Ipoh General Hopsital, X-Ray results showed that he had a lacerated liver, punctured lungs and diaphragm with a bullet lodged in his abdomen. He could not breathe properly as his lung was flooded with his own blood. An operation was immediately performed to save him. He survived the ordeal and recovered a month later.
Visit by Chief of Army Gen Tan Sri Dato' Mohd Ghazali Dato' Mohd Seth at Ipoh General Hospital.

For his bravery and distinguish service in defending the nation against its enemy in the finest traditions of the Ranger Regiment during the incident, he was conferred the "Kepujian Perutusan Keberanian" (KPK) on the 15th of September, 1979.
Kepujian Perutusan Keberanian

Founded by the 2nd Yang DiPertuan Agong, Al-Marhum Tuanku Hisamuddin Alam Shah Al-Haj as an award for operational gallantry. The award is given to all ranks for an act or acts of bravery during active operations not amounting to being awarded a medal. It can be awarded more than once and can also be conferred posthumously. The award in the form of a bronze "laurel" can be worn over other ribbon award. The award was created on 29 July 1960 and was formally gazetted by an Act of Parliament on 11 August 1960.

The Perak State Government awarded him the "Perwira Taming Sari" (PTS) which belongs to "The Most Valliant Order of Taming Sari." It was founded by Al-Marhum Sultan Idris Shah II in 1977 for Malaysian Armed Forces and Royal Malaysian Police personnel as an award for act of bravery and valour. The award have been discontinued in 1989 and under the Undang-Undang Darjah Kebesaran Negeri Perak, all previous Honour award holders can still continue to enjoy the privileges that are bestowed together with the individual awards.
Maj Patrick Wong Sing Nang (Rtd)
Joining the Army
Maj Patrick Wong (most right, with sword) leading his detachment in drill practice during his RMC days.
Patrick was born on the 18th of March, 1947 in Sibu, Sarawak. He had early Chinese Primary education and did his Senior Cambridge in 1966. During an interview with Malaysian Digest at Taman Melawati, Kuala Lumpur on 27 August 2017, he relates that:

"During the early days of Malaysia, when I was a teenager, I saw a lot of Commonwealth forces in my hometown. I was impressed by the foreign soldiers."

In 1966, a recruiting team from the Ministry of Defence came to his hometown and gave a talk on military service as a career choice. Patrick wasted no time and made an application to join the Army the following year.

He began Cadet Training at Royal Military College, Sungai Besi on 6 May 1967 and joined Regular Intake 11. Upon commissioning on 12 April 1969, Second Lieutenant Patrick Wong was assigned to the 3rd Ranger Battalion and stationed in Taiping.

Patrick recalled, "At the time, Taiping was considered to be the hottest spot for communist threats in Perak and Kedah".
Serving the Nation
With Lt Col Robert Rizal Abdullah (Rtd) PGB, then a Second Lieutenant. Source: http://pgbwarrior.blogspot.my
From Apr 1969 to May 1977, he conducted and participated in operations against Communist Terrorists both in Sarawak and Semenanjung Malaysia serving with 3th Ranger Battalion. In December 1977, as a Company Commander of 8th Ranger Battalion, he was severely wounded along with 3 soldiers during enemy's firefight in Ops Tanduk. He was subsequently medically boarded due to serious injury.

He had held various staff appointments including's Staff Officer (G2) Housing and Staff Officer (G2) Welfare at Ministry of Defence. He also served as Staff Officer (G2) Operations and Staff Officer (G2) Admin & Log at HQ 11 Infantry Brigade. He obtained a Diploma in Management at National Institute of Public Administration (INTAN) in 1979 and attended Armed Forces Staff College in 1982. His last appointment prior to retirement was the General Manager of Armed Forces Officer Mess, Ministry of Defence.
Maj Patrick Wong (Rtd), second from right speaking with Chief of Defence Force Tan Sri Raja Mohamed Affandi bin Raja Mohamed Noor, then Chief of Army. The event was the Handing Over of MACVA Certificate of Registration Ceremony held at the Army Officer Mess, Sungai Besi Camp. 19 Sep 16.
With Brig Gen Dr Leong Weng Foon (Rtd) at Flamingo Hotel, Kuala Lumpur during MACVA Vision Seminar. 20 Aug 16.
With En Azzam Syafiq. Malaysian Digest interview. 27 Aug 2017.
Maj Patrick Wong Sing Nang (Rtd) SN: 200741 retired from the Malaysian Army on 2nd of February, 1993 after serving for 26 years with pride and dedication. He is blessed with 2 daughters from his marriage and currently resides in Taman Melawati, Kuala Lumpur.

MACVA is very proud of his achievements and sacrifices for King and Country and wishes him good spirit and health in enjoying his well deserves retirement.
In "Anak Anak Malaysia" Star TV Documentary on MACVA Veterans Sacrifices in conjunction with 2016 Merdeka Celebrations.
Maj Wong Kwai Yinn (Rtd)

28 Jan 18

References:
A. 54 Years After The Formation Of M'sia, An Army Veteran Tells Youth To Not Take Peace For Granted http://malaysiandigest.com/features/698026-54-years-after-the-formation-of-m-sia- an-army-veteran-tells-youth-to-not-take-peace-for-granted.html.
B. History of 8th Rangers (Para) in the National Language http://7renjer.blogspot.my/.
C. Kategori:Darjah Kebesaran Negeri Perak http://pingat.perak.gov.my/darjah.php.
D. Susunan Keutamaan DKBP P http://www.istiadat.gov.my/v8/borang_skp2016/ panduan.html.
posted by Major D Swami (Retired) @ 6:48 AM

ARCHIVES
Previous Post
Links
Links To Rangers
Military Related Links
XXXX

xxxx
xxxx
XXX
XXXX
World
xxxx
Advertistment
Advertistment
XXXXXXXX
Advertistment
XXXXXXXX
Advertistment
XXXXXXXX
Advertistment
XXXXXXXX
Advertistment
XXXXXXXX
Advertistment
XXXXXXXX
Advertistment
XXXXXXXX
Advertistment
XXXXXXXX
Powered by