The Courageous
Who Have Looked At
Death In The Eye
Nuffnang
Miscellaneous
No Atheists
In A Foxhole
"When you're left wounded on

Afganistan's plains and

the women come out to cut up what remains,

Just roll to your rifle

and blow out your brains,

And go to your God like a soldier"


"We are not retreating. We are advancing in another direction."

"It is fatal to enter any war without the will to win it."

"Old soldiers never die; they just fade away.

"The soldier, above all other people, prays for peace,

for he must suffer and be the deepest wounds and scars of war."


"May God have mercy upon my enemies, because I won't ."
"The object of war is not to die for your country but to make the other bastard die for his.

"Nobody ever defended anything successfully, there is only attack and attack and attack some more.

"Fixed fortifications are a monument to the stupidity of man."
"It is foolish and wrong to mourn the men who died.
Rather we should thank God that such men lived.


The Soldier stood and faced God
Which must always come to pass

He hoped his shoes were shining
Just as bright as his brass
"Step forward you Soldier,
How shall I deal with you?


Have you always turned the other cheek?


To My Church have you been true?"


"No, Lord, I guess I ain't


Because those of us who carry guns


Can't always be a saint."


I've had to work on Sundays

And at times my talk was tough,

And sometimes I've been violent,

Because the world is awfully rough.

But, I never took a penny

That wasn't mine to keep.

Though I worked a lot of overtime

When the bills got just too steep,


The Soldier squared his shoulders and said

And I never passed a cry for help

Though at times I shook with fear,

And sometimes, God forgive me,

I've wept unmanly tears.

I know I don't deserve a place

Among the people here.


They never wanted me around


Except to calm their fears.


If you've a place for me here,


Lord, It needn't be so grand,


I never expected or had too much,


But if you don't, I'll understand."


There was silence all around the throne

Where the saints had often trod

As the Soldier waited quietly,

For the judgment of his God.

"Step forward now, you Soldier,

You've borne your burden well.

Walk peacefully on Heaven's streets,

You've done your time in Hell."


Links
& Infor
xxxx
Glorious
Malaysian Food
xxx
&
Other Stuff
xxx
xxx
xxx
XXXX
xxxx
Advertistment
XXXXXXXX
Advertistment
Major Patrick Wong Sing Nang
Thursday, August 30, 2018
I love my country and I must live on," Major Wong Sing Nang (Retired), a patriot and survivor from the battle in 1977, persevere till the very end. More on him.............
posted by D.Swami Gwekanandam @ 6:54 AM

Maj Patrick Wong Sing Nang (Rtd)
Malaysian Armed Forces Chinese Veterans Association (MACVA) would like to pay tribute to one of its hero's; Major Patrick Wong Sing Nang (Rtd). In conjunction with the Malaysian Armed Forces Veteran Gathering event on 31 July 2017, RTM interviewed him and Brig Gen Dr Leong Weng Foon (Rtd) at Wisma TV, Angkasapuri, Kuala Lumpur on 28 July 2017. Together with Veterans who have served King and Country, their interviews were broadcast by RTM respectively on 29 July and 30 July 2017.

His expressed statement during the interview:
"I hope that Malaysian will not forget Veterans of the Malaysian Armed Forces because the peace that Malaysia has today are due to their past sacrifices; especially during the First and Second Malaysian Emergency; which enable our Country to enjoy our independence until today."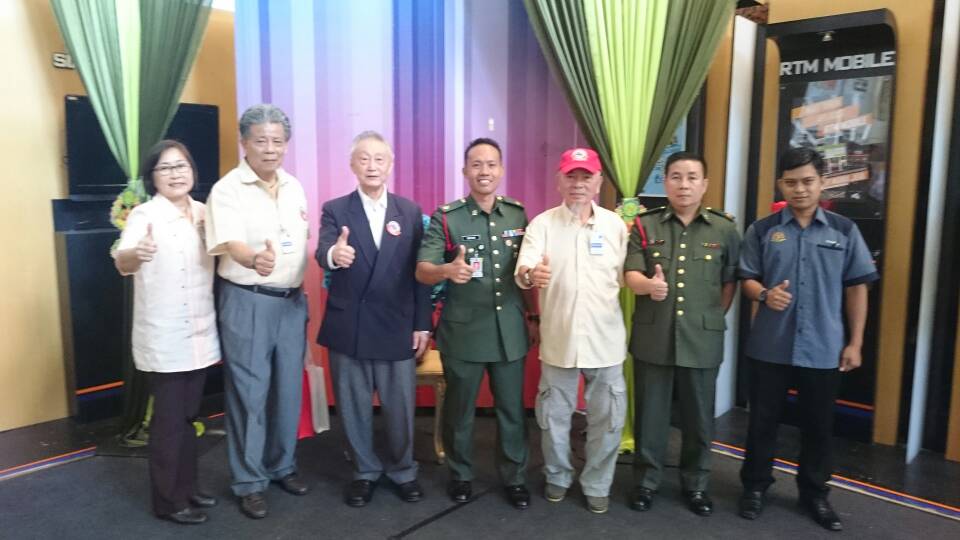 With MACVs, JHEV and MINDEF Officers at Wisma TV, Angkasapuri, Kuala Lumpur. 28 July 2017.


Patrick had being involved in a series of Operations that have made contact with the enemies. Among them were Operation Radak in Kulim, Kedah; the Lundu incidents in Sarawak and Operation Tanduk in Gopeng, Perak.
Captain Patrick Wong Sing Nang (Rtd) was a Company Commander of 8th Ranger Battalion based at Syed Putra Camp, Ipoh. He was shot in the chest during a firefight with the enemies in Ops Tanduk on December 1977 in Gopeng, Perak. Three other men were also severely injured including one soldier who stepped on an enemy booby trap.
Despite being severely injured, Patrick never lost his command and continues to give direction. Request for helicopter evacuation was immediately made and a 'winching point' was established. He ordered three of his wounded men be evacuated first, leaving himself last to be airlifted out putting the safety and lives of his men above his.
On arrival at Ipoh General Hopsital, X-Ray results showed that he had a lacerated liver, punctured lungs and diaphragm with a bullet lodged in his abdomen. He could not breathe properly as his lung was flooded with his own blood. An operation was immediately performed to save him. He survived the ordeal and recovered a month later.
Visit by Chief of Army Gen Tan Sri Dato' Mohd Ghazali Dato' Mohd Seth at Ipoh General Hospital.

For his bravery and distinguish service in defending the nation against its enemy in the finest traditions of the Ranger Regiment during the incident, he was conferred the "Kepujian Perutusan Keberanian" (KPK) on the 15th of September, 1979.
Kepujian Perutusan Keberanian

Founded by the 2nd Yang DiPertuan Agong, Al-Marhum Tuanku Hisamuddin Alam Shah Al-Haj as an award for operational gallantry. The award is given to all ranks for an act or acts of bravery during active operations not amounting to being awarded a medal. It can be awarded more than once and can also be conferred posthumously. The award in the form of a bronze "laurel" can be worn over other ribbon award. The award was created on 29 July 1960 and was formally gazetted by an Act of Parliament on 11 August 1960.

The Perak State Government awarded him the "Perwira Taming Sari" (PTS) which belongs to "The Most Valliant Order of Taming Sari." It was founded by Al-Marhum Sultan Idris Shah II in 1977 for Malaysian Armed Forces and Royal Malaysian Police personnel as an award for act of bravery and valour. The award have been discontinued in 1989 and under the Undang-Undang Darjah Kebesaran Negeri Perak, all previous Honour award holders can still continue to enjoy the privileges that are bestowed together with the individual awards.
Maj Patrick Wong Sing Nang (Rtd)
Joining the Army
Maj Patrick Wong (most right, with sword) leading his detachment in drill practice during his RMC days.
Patrick was born on the 18th of March, 1947 in Sibu, Sarawak. He had early Chinese Primary education and did his Senior Cambridge in 1966. During an interview with Malaysian Digest at Taman Melawati, Kuala Lumpur on 27 August 2017, he relates that:

"During the early days of Malaysia, when I was a teenager, I saw a lot of Commonwealth forces in my hometown. I was impressed by the foreign soldiers."

In 1966, a recruiting team from the Ministry of Defence came to his hometown and gave a talk on military service as a career choice. Patrick wasted no time and made an application to join the Army the following year.

He began Cadet Training at Royal Military College, Sungai Besi on 6 May 1967 and joined Regular Intake 11. Upon commissioning on 12 April 1969, Second Lieutenant Patrick Wong was assigned to the 3rd Ranger Battalion and stationed in Taiping.

Patrick recalled, "At the time, Taiping was considered to be the hottest spot for communist threats in Perak and Kedah".
Serving the Nation
With Lt Col Robert Rizal Abdullah (Rtd) PGB, then a Second Lieutenant. Source: http://pgbwarrior.blogspot.my
From Apr 1969 to May 1977, he conducted and participated in operations against Communist Terrorists both in Sarawak and Semenanjung Malaysia serving with 3th Ranger Battalion. In December 1977, as a Company Commander of 8th Ranger Battalion, he was severely wounded along with 3 soldiers during enemy's firefight in Ops Tanduk. He was subsequently medically boarded due to serious injury.

He had held various staff appointments including's Staff Officer (G2) Housing and Staff Officer (G2) Welfare at Ministry of Defence. He also served as Staff Officer (G2) Operations and Staff Officer (G2) Admin & Log at HQ 11 Infantry Brigade. He obtained a Diploma in Management at National Institute of Public Administration (INTAN) in 1979 and attended Armed Forces Staff College in 1982. His last appointment prior to retirement was the General Manager of Armed Forces Officer Mess, Ministry of Defence.
Maj Patrick Wong (Rtd), second from right speaking with Chief of Defence Force Tan Sri Raja Mohamed Affandi bin Raja Mohamed Noor, then Chief of Army. The event was the Handing Over of MACVA Certificate of Registration Ceremony held at the Army Officer Mess, Sungai Besi Camp. 19 Sep 16.
With Brig Gen Dr Leong Weng Foon (Rtd) at Flamingo Hotel, Kuala Lumpur during MACVA Vision Seminar. 20 Aug 16.
With En Azzam Syafiq. Malaysian Digest interview. 27 Aug 2017.
Maj Patrick Wong Sing Nang (Rtd) SN: 200741 retired from the Malaysian Army on 2nd of February, 1993 after serving for 26 years with pride and dedication. He is blessed with 2 daughters from his marriage and currently resides in Taman Melawati, Kuala Lumpur.

MACVA is very proud of his achievements and sacrifices for King and Country and wishes him good spirit and health in enjoying his well deserves retirement.
In "Anak Anak Malaysia" Star TV Documentary on MACVA Veterans Sacrifices in conjunction with 2016 Merdeka Celebrations.
Maj Wong Kwai Yinn (Rtd)

28 Jan 18

References:
A. 54 Years After The Formation Of M'sia, An Army Veteran Tells Youth To Not Take Peace For Granted http://malaysiandigest.com/features/698026-54-years-after-the-formation-of-m-sia- an-army-veteran-tells-youth-to-not-take-peace-for-granted.html.
B. History of 8th Rangers (Para) in the National Language http://7renjer.blogspot.my/.
C. Kategori:Darjah Kebesaran Negeri Perak http://pingat.perak.gov.my/darjah.php.
D. Susunan Keutamaan DKBP P http://www.istiadat.gov.my/v8/borang_skp2016/ panduan.html.
posted by D.Swami Gwekanandam @ 6:48 AM

Malaysian professional arms has its roots in the 1971 death of Capt. V.M. Chandran SP by M.G.G. Pillai - Sunday, June 13, 2004, 08:03 pm
Tuesday, August 07, 2018
THIRTEENTH OF JUNE 1971. What happened 33 years ago on this day is remembered by a negligible few, in the armed forces, in the 4 Renjer Bn, even in its C Company.
I asked several retired and serving officers about it. A few of the former officers remembered. One asked his colleagues at the time by email and SMS if they could remember what happened on that. None could. But at least 4 Renjer (or Rangers, in English) and its C Company should have. On that day the commanding officer of C Company, Capt. V. 'Ray' Mohanachandran SP, died in an ambush on a well-fortified and bunkered Communist Party of Malaya base in Tanjong Rambutan, Perak, on the periphery of a Police Field Force camp, that earned him the Malaysian equivalent of the Victoria Cross.
That he died gallantly, leading his men from the front into battle, is now undisputed, although the rush to blame him was relentless at the time. There was still the fairness and professionalism then that now seems lacking, and the blame was laid not on him, as his seniors would have liked, but on the seniors themselves. The Intelligence Officer or IO of 2 Bde, who ordered Capt. Chandran by radio to attack the camp, had kept a detailed log book and which contained the operational blunders at battalion, brigade and division headquarters, was sent inexplicably on leave.
When he returned, his log book went missing. Capt. Chandran, his close friend, told him this could well be goodbye for ever, and in jest to request a "Papa Golf Bravo" for him! Within two hours, at about 2.50 pm, he was dead. Papa Golf Bravo stood for the PGB, the second highest Malaysian award for gallantry. When the dust settled, he was awarded posthumously the Seri Pahlawan Gaga Perkasa or the SP, an award with a higher protocol ranking than a Tun. He was, if my memory serves me right, the first army officer to die in combat with the CPM after hostilities ended in 1960.
Capt. Chandran, 24, passed out of Portsea, the Australian Sandhurst, and, according to his friends, meticulous and painstaking to a fault. When he investigated - or, in military slang, recce'd - reports of an MCP presence, he found a well fortified and bunkered camp and between 40 and 60 well-armed men. The 5th Assault Unit was an advance party of the CPM to reinstate their lost strongholds, and had established a beach head at this spot, as they moved south along the Main Range to Cameron Highlands to Pahang, where the 6th Assault Unit was to establish a base in the Tras-Raub area, where in the 1950s, the MCP had a semi-permanent base.
Chin Peng was there for a while. The Police Special Branch and the 2 Bde, to which 4 Renjer were attached, had been tracking the CPM's advance party to the south but missed out the 5 Assault Unit establishing a permanent base in the Tanjong Rambutan. Two groups from 4 Renjer was sent out to recconoitre the area. Capt Chandran's C Company's report was disbelieved. Headquarters insisted there could not be more than half a dozen CPM men, and that was how he went in to die.
His was not the only death; there were heavy casualties on both sides. He had led his C Company to certain death for the ground was as he had radioed brigade headquarters, and the CPM's 5th Assault Unit made mince meat out of him and his company. What was not known at the time was the 5th Assault Unit was led by the CPM's strategic and tactical genius, Chong Chor. Years later, he surrendered with his wife, who was then seriously ill, to a senior Special Branch officer, in Rawang, after weeks of negotiations.
At the time, the Special Branch intelligence in Tanjong Rambutan was wrong, and Capt. Chandran was spot on. Chong Chor's wife died since, and he, now in his 80s, is reported to be living in the area. Until a few years ago, the officer who took the surrender, then years into retirement, would visit him. It stopped only when he moved out of Kuala Lumpur. What he told me of how he built a working relationship with Chong Chor amazes me to this day. But we talk of an epoch that would never come back. Superious intelligence, attention to painstaking detail, respect for the enemy, fair play were all in ample supply.
When the ground dropped from under them, many a CPM man accepted the good faith of the enemy and happily surrendered to them. That would not be possible now, for the hostility inherent towards the enemy, whoever he is, is so total, that none in the government would dare speak well of a gallant enemy. The hostility towards Chin Peng and his men returning to Malaysia after the CPM formally surrended and ended the conflict in the late 1980s is one sign of that. Now the enemy is different. It is Islamic fundamentalism. But one is not sure if there is such a pressure or if it is a convenient label to put on a political rival by linking him to a global enemy.
But we as a nation have descended into the colonial practice of cruelty and violence, often for no reason than the whims and fancies of the officer in charge. As Gillo Pontecorvo's film masterpiece, "The Battle of Algiers", of the confrontation between the Algerian freedom fighters and the French colonial power, shows, violence and harshness would win the battle but not the war. But when a nation is used to unspeakable violence and brutality, the call for a humane and intelligent approach to the problem is not only anathema but treachery as well.
I run ahead of the story of Capt. Chandran. The 2nd Div commander, Maj.-Gen. Osman 'Otto", as he was known, insited he wanted to be directly involved in the follow up. Two regiments, 12 and 13 Royal Malay Regiment, were deployed for the counter-attack. The 13 RMR was led by the very professional Lieut.-Col. 'Robert' Mahmood; the 12 RMR by Lieut.-Col. Abdul Rahman Abdul Rashid, whose blood pressure shot up so dangerously that he had to be replaced by a 3 Recce Officer, Maj. Kenny Siebel, the first time ever that a non-Malay or non-British officer had commanded an RMR. The present chief of the armed forces chief, General Tan Sri Zaidi Zainuddin, also commanded this regiment and when he cowered in fear when it established contact with the CPM. But this is also the regiment commanded by the legendary Lieut.-Col. Raja Aman Shah, whose men would march with pride to certain death had he so desired.
The troops were ready, and in battle formation, in their trucks and in their planes and helicopters. But Gen. Osman was no where around; he was playing cards in the 2 Div officers' mess, and none dare interrupt him. The planes, helicopters and trucks were fuelled with the men on board, waiting for the orders that came too late. The enemy by then had blown. If that counter attack had taken place, it could well have stopped the infilitration much earlier, and billions of ringgit could have been spared for other major expenditure.
The interference of commanders who did not know the battle ground made it worse. It was the beginning of the chain of events that led only last week to the field marshal's pennant placed upside down on the official vehicle the Yang Dipertuan Agung took the salute on his birthday on 05 June 2004. In the wake of the 13 May 1969 riots and the ensuing UMNO political coup and its Malay only policy in all areas of the administration, the armed forces turned political, lost its professionalism, and all but gave up the ghost.
The armed forces is still paying the price for it. Was Capt. Chandran's sacrifice worth it, with or without the posthumous SP to his name? Yes. It is heroes like him that enhances the reputation and professionalism of the armed forces. He led from the front. His men would go any lengths to not let him down. But does the Malaysian Armed Forces of 2004 know or care for that sacrifice? Or indeed of any other? I am not sure.
Source : Alam Faizli bin Mohd Zain................
posted by D.Swami Gwekanandam @ 11:00 PM

602060 Corporal Beh Huat Soon of 4th Rangers
Friday, April 20, 2018
Another forgotten hero, who lost his arm - editor. My name is Beh Huat Soon. Service Number 602060. I underwent basic training of 6 months at the 2nd Battalion Singapore Infantry Regiment, in Singapore.
We did many jungle operations during the Indonesian Confrontation, in the jungles of Kota Tinggi, jungles killing and capturing fifty-seven Indonesian soldiers. Our Battalion lost eight rifle men including the Platoon Sergeant to the Indonesian Enemy action. Later I was discharged from the Singapore Army, opted to serve in the Malaysian Army.

When we were in the railway station in Singapore, some soldiers from the MAF who were at the railway told us we'd be accepted into the MAF without any recruit training because we were already trained soldiers. Those who wanted to join to report to an army camp in Batu Gajah. I was among the first group of about twenty people to reached B.Gajah.We waited for about five days in an empty camp. I became a soldier in the 4th Malaysian Rangers..

I worked with many officers as their radio operator in many jungle operations in Malaysia. One of the operations turned out to be my last operations in Gubir. We went in by chopper and was in for more than 2 mths. I was in Col. Habarjan's company.. Delta coy and I was his radio operator. We came out of the jungle by chopper, returned to Ipoh was by truck. I used to follow the OC's in their land rover. This time after landining I went straight to OC D Coy, he told me he was going to a meeting and that I go back first. I don't remember much after the accident. I lost my arm, my hand in that accident.

I served twenty-two years in the army. I have given the best part of my life, my youth being in the army as members of the security forces sacrificed several Chinese New Years and holidays in the jungles. There was one time in Tawau . I was in Sebatik Island , forward location Samping Tiga . One day the mails came, and I received a tin... Jacob's cream crackers filled with Koay Kapits all the way from Penang Island.They were all crushed to peices and in powdered form.
On seeing them , I was overcome with saddness, and I cried and cried .If only I can be with with my parents and sister, I'll tell them how much I miss them and love them. I am sure some of my friends must have seen me sitting on top of my bunker crying my heart out.
But they left me alone with my own miseries.
posted by D.Swami Gwekanandam @ 5:07 AM

A Non Malay Ranger Officer who laid down his life, especially for the ignorant morons
Monday, January 22, 2018
Click on image to enlarge
Captain Hardav Singh the Intelligence Officer who laid down his life for this country. This Officer was shot more than 10 times.

This was a Non Malay Officer NOT in a Japanese Army Uniform!
Having clear advantage and with the harassing fire power over the enemy camp still on, I look upon this Ops as to get on level term with the Communist Terrorists. On the 7 of April 1975, during battalion roulement between 13 MTA and the 7th Ranger Regiment, returning back from Mong (or Nong) Gajah towards Gubir, two of the three vehicles in a convoy carrying a Platoon from 7th Ranger with Skot Syed Ikmal Hashim, as the Platoon Commander was ambushed, killing over half a dozen soldiers including one of my drivers, Pemandu Hussain from C Platoon, 20 Transport Coy.
However I am proud to say that this transport unit has been the most combatant during that time where I was the Platoon Commander. The Ferret scout car escorting from the rear, raced towards the ambushed zone was however disabled with its gun and radio antennae destroyed. Miraculously a bullet from the enemy fires went through the barrel of the armored car Browning machine gun. It was a tense and dramatic moment when the daring enemy, a woman bandit came down from the slope of the road cutting and trying to finish off those soldiers with some already wounded that went for cover under the vehicles and just then when the Ferret arrived. Both trucks stop along side each other, probably in certain sense provided wider shelter for the soldiers.
One of the Rangers died in an assaulting position still clutching on to his weapon which has the empty casing stuck to its chamber. The few seconds needed to do the TSM may have cost his life. Three days later in pursuit of the above incident, when 6th Brigade was just about to mount a major Ops, the Brigade Intelligence Officer, Capt Hardev Singh, leads an advance party in a Land Rover, followed with convoy of trucks carrying a company from the 17 RMR. Hardly just few miles further up Gubir camp, the advance column was ambushed killing him and several soldiers including the Corporal of the armoured scout car. Two of the 20 Transport Coy drivers were shot and seriously wounded however survived.
Pathetic, and just about everything went wrong for the 17 RAMD Coy including reason for the Brigade IO to be there. Already seriously wounded he can only afford to verbally challenge the bandits before they gained control over him. It was a rampage and among other things the enemy took off with them were some weapons and a radio signal set and as such every set of that model has got to be re-crystallized. So having suffered with all those tragic loses, it was time to retaliate or at least get even.
Read it all at the Jottings of Xnuri Pilot...............
posted by D.Swami Gwekanandam @ 4:10 AM

'We have our scars': Chinese army vets slam Ummah for denying minorities' part
Monday, January 15, 2018
Macva president Major Tan Pau Son during Malaysian Armed Forces Chinese Veterans Association press conference at The Boulevard Mid Valley City January 15, 2018. — Picture by Firdaus LatifMacva president Major Tan Pau Son during Malaysian Armed Forces Chinese Veterans Association press conference at The Boulevard Mid Valley City January 15, 2018. — Picture by Firdaus LatifKUALA LUMPUR, Jan 15 — Ethnic Chinese army veterans have railed against Malay-Muslim coalition Ummah today over the latter's erroneous claim that only Malays had resisted British colonists, Japanese occupiers and Communist insurgents.

At a press conference today, Malaysian Armed Forces Chinese Veterans Association (Macva) president Major (Rtd) Tan Pau Son said cleric Ismail Mina Ahmad's remarks were not only historically and factually wrong, but had belittled the contributions of the non-Malay veterans including the Ibans, Indians, Sikhs. "We participated in defending our country and some of us still have scars to show that we were there — risking our lives," Tan told a press conference at Mavca headquarters at Midvalley Boulevard here.
Tan said Mavca, with a membership close to 1,000 veterans since inception on August 31, 2016, and thousands who have passed on before them is a true testimony of a large group of Chinese veterans who had served loyally in military campaigns. "Needless to say there were also Chinese veterans who sadly lost their lives and limbs in the defence of the nation. "All Malaysians should rebutt all these inaccurate and irresponsible assertions made by Ismail," he said.
Malaysian Armed Forces Chinese Veterans Association pose for group photo after press conference at The Boulevard Mid Valley City January 15, 2018. — Picture by Firdaus LatifMalaysian Armed Forces Chinese Veterans Association pose for group photo after press conference at The Boulevard Mid Valley City January 15, 2018. — Picture by Firdaus LatifTan also pointed out that there were six Chinese members of the armed forces who were bestowed with the Panglima Gagah Berani medals for their extreme bravery: Colonel Maurice Lam Shye Choon, Major (Rtd) Lee Ah Pow, Second Lieutenant (Rtd) David Fu Chee Ming, Sergeant (Rtd) Choo Woh Soon, Sergeant Cheng Eng Chin, and Ranger Mat Isa Hassan. Meanwhile, three others, Lieutenant Colonel Chong Kheng Ley, Lieutenant Colonel Leong Fook Cheong, and Captain Tien Sen An, were awarded Pingat Tentera Udara for their valour.
"We have Chinese veterans who receive gallantry awards and this alone is a testament that the Malays were not the only ones who protected the nation," he said.

On Saturday, Ismail who is the chairman of the Ummah umbrella group for Muslim organisations, also asserted that only the Malays had battled the Communists, which he claimed made the community a target of the predominantly-Chinese Insurgency that lasted for forty years. One particular war veteran who narrowly escaped death while fighting a battle in Southern Thailand in 1978, said he was hurt and angered by Ismail's remarks in the convention outlining the demands of the Muslim lobby.
WO Patrick Lee ai Tong, 71 shows scar from a bullet during Malaysian Armed Forces Chinese Veterans Association press conference at The Boulevard Mid Valley City January 15, 2018. — WO Patrick Lee ai Tong, 71 shows scar from a bullet during Malaysian Armed Forces Chinese Veterans Association press conference at The Boulevard Mid Valley City January 15, 2018. Warrant Officer Patrick Lee Kai Tong said Ismail's statement was not only ignorant but hurtful to armed forces who had witnessed countless deaths and suffered various injuries in the name of the country. Lee, now 71, walks around with a hole in his left arm after being shot by the communists who had zeroed in on the Nuri helicopter he was in while landing to provide ammunition supply to his own troop.
"Does he even know what it is like to be in a warzone? He can say what he want but do not hurt people's feelings," Lee said. "Maybe this scar from an M-16 is not enough for me to prove that I was there fighting for the country but know that every memory, every death — even the smell of it stays with me." Tan also chided Ismail for conveniently forgetting that there were many Malay members among the Communist insurgents. "In Ismail's speech, he failed to mention that the 10th Regiment Malayan Communist Party was predominantly a Malay regiment unit operating in the jungles of Northern Malaysia and Southern Thailand. "The leader was Abdullah CD and his followers Suriani Abdullah, Shamsiah Fakeh, Abu Samah Mohamad Kassim and Rashid Maidin," Tan said.
Source : The Malay Mail
posted by D.Swami Gwekanandam @ 5:32 AM

Indonesian Commandos captured invading Malaysia, conveniently forgotten by the UMNO Government, under Mahathir
Wednesday, December 06, 2017
posted by D.Swami Gwekanandam @ 3:08 AM

Remembering a Warrior of Seventh Rangers - Captain Tong Lye Heng
Thursday, September 07, 2017
Out of nowhere, a gunshot came from a distance and hit Captain Tong's left hip.
"I would come to learn later after the incident from my sentry that the enemy was already walking to a claymore mine, but since it was installed improperly, it did not explode," he recounted being shot by a Communist insurgent. Tong Lye Heng, now a 71-year-old army veteran was reliving the moment when he was fighting the communists in the dense forests of Grik, Perak during the 1970s and nearly lost his life defending his country.
Now a proud member of the newly formed Malaysian Armed Forces Chinese Veterans (MACVA), Captain Tong's story is but one of the thousands of wounded and fallen unsung heroes who have put our nation's security first ahead of their personal life. Throughout the country's 60 years of independence, the country has survived through many threats thanks to the sacrifices of our warriors, such as the communist insurgency during the 1970s, the Konfrontasi with Indonesia and recently, the invasion of Lahad Datu by the self-styled Sulu Sultanate challenging Malaysian sovereignty over Sabah.
In conjunction with Warrior's Day, Malaysian Digest is putting the spotlight on our brave soldiers have been wounded and to honour those who lost their lives in the line of duty throughout the country's history. Veteran Shares His Experience Fighting The Communist During The Emergency Cpt Tong Lye Heng (left), army veteran and Lt Col Wong Ah Jit, secretary of MACVA.Cpt Tong Lye Heng (left), army veteran and Lt Col Wong Ah Jit, secretary of MACVA.
"I was assigned as the leader for 7th Ranger Platoon in the Sungai Petani camp. The 26 soldiers in that platoon were newly assigned to me at that time, so I did not know them very well. "The boys who I was familiar with, whom I spent three months in the jungle, were assigned to other posts," recalled Captain Tong," who joined the army on 6th March 1969. On 10th June 1971, his battalion established a base in the forest, and has placed claymore mines and other defenses around the outside perimeter of their base.
After his boys has finished placing the mines and gun placements, Captain Tong decided to conduct some reconnaissance at the south of the base to check whether his boys did them perfectly. "My sentry actually spotted the enemy much earlier, before the enemy shot me, and he tried to shoot him first with his light machine gun. However, he was panicking, and could not realise that his safety catch was on the 'Safe' position and not in 'Rapid Fire' or 'Automatic' position," the captain shared his brush with death with Malaysian Digest.
A safety catch is a mechanism in all guns that is designed to prevent accidental discharge of the bullets. When a safety catch is put in the 'Safe' position, a gun cannot shoot. He said he did not know that the soldier he picked as a sentry was an inexperienced soldier, since he was not familiar with the new platoon. Had it been if he was with his old platoon, he would know who would be more suited for sentry and other roles.
"There were two enemy soldiers, one of them saw me first and immediately shot me. The trousers Captain Tong wore when he was shot on 10 June 1971. The hole in the right is where the bullet hit him in the hip, while the stains near the hole are blood stains from the wound.
"We only saw two soldiers, but in the thick of the forest, we could not know if there were more of them behind the two soldiers," he recalled. The communists often send groups of two soldiers as scouting parties to scout the area before sending in the main fighting force. Captain Tong's soldiers immediately returned fire and ordered artillery strikes to hit the area around the enemies, while his second-in-command contacted the nearby headquarters and asked for a helicopter to lift the captain out of the forest.
Two hours later, the Nuri helicopter arrived but received heavy fire from the communists. However, an army medic managed to rappel down to temporarily treat Captain Tong, before the helicopter retreated. "The medic gave me shots of morphine and IV, and that helped save my life," he said. After some time, the Nuri helicopter returned to the scene and this time an Alouette helicopter followed as well, to provide covering fire while Captain Tong was being rescued.
"The whole thing was reminiscent to that of the Vietnam War," said Captain Tong. He was lifted to Klian Intan and then to a hospital in Penang. He was immediately taken to an operating theatre for an operation. According to the doctor, the bullet missed his spine by half of an inch. Captain Tong was treated at the Penang Hospital for three months, and then spent a month at the Terendak camp. Four months after he was shot, he returned to the Sungai Petani headquarters to resume his duty.
However, he was not assigned to the frontlines and instead handled the administration and tactics of the war effort. "Later on, I was assigned as an intelligence officer and I helped devise an operation to strike the communists in Gunung Bongsu. "We managed to kill some communists in that operation," recalled the captain, who managed to use that chance to strike back at the enemy who almost took his life from that operation.
Captain Tong did not stay long in the army, and was honourably discharged on 9th October 1976. His disciplined life in the army has taught him incredible lessons that have helped him adapt to the civilian life. Captain Tong's discharge papers. Captain Tong's discharge papers. "After the army, I joined the plantation industry as a manager. When I was in the army, I had valuable lessons in team management as a captain and head of a platoon.
"That experience translates perfectly to managing a plantation," he said. After 18 years in the plantation industry he switched places to work in the cargo shipping sector. Now, he runs his own cargo shipping company. Cpt Tong (right) during a training session in Sungai Petani.Cpt Tong (right) during a training session in Sungai Petani.
From The Malaysian Digest
posted by D.Swami Gwekanandam @ 8:15 PM

ARCHIVES
Previous Post
Links
Links To Rangers
Military Related Links
XXXX

xxxx
xxxx
XXX
XXXX
World
xxxx
Advertistment
Advertistment
XXXXXXXX
Advertistment
XXXXXXXX
Advertistment
XXXXXXXX
Advertistment
XXXXXXXX
Advertistment
XXXXXXXX
Advertistment
XXXXXXXX
Advertistment
XXXXXXXX
Advertistment
XXXXXXXX
Powered by